iCM22 - Step Down Converter (2.5A)
Tax excluded
Shipped within 1 week
The iCM22 is a high frequency switching DC−DC Step-Down Regulator. This regulator operates over a wide input voltage range, from 3.6V to 20V and output voltage adjustable from 0.8V to 16V. It can supply up to 2.5A current output with low heat dissipation.
Features:
Input Voltage from 3.6V to 20V
Output Current up to 2.5A
Output Voltage Adjustable from 0.8V to 16V
Low Standby Current at 5mA
Low Output Voltage Ripple
Frequency Operation of 500 kHz
Efficiency up to 90%
Output power up to 30W
Over Temperature Shutdown
Output Current Limiting
Short Circuit Protection
Easy integration with iBoard series and prototype board
Enable function and feedback signal (EN & FB pins): 
Applications:
Step−Down supply applications
Motors Supply
Battery Chargers
High Power LED Lighting
Dimension:
Dimension: 2.3cm X 3cm x 2cm (H)
Standard 2.54mm 2x 6 Pin Header
Operation:
EN Pin: >2.0V/NC - Regulator ON; <0.8V - Regulator OFF
Remarks:
Overvoltage input may damage the device. Extended exposure to stresses above the Recommended Operating Conditions may affect device reliability.
Layout: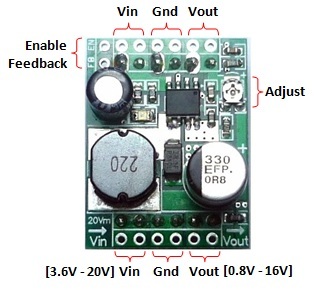 Photos (with iBoard):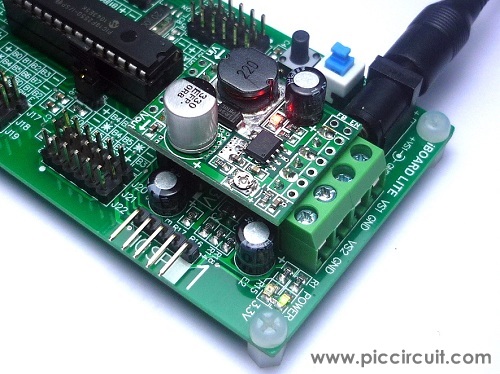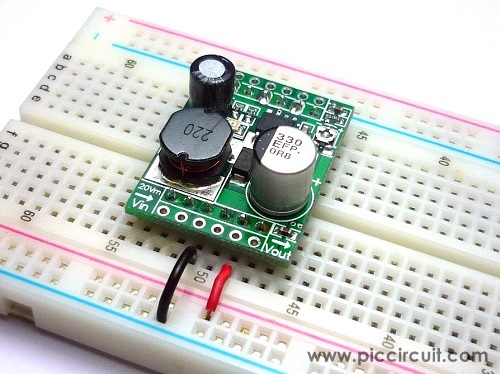 Video (iCM22 with 35W Halogen Light):