iCM27 - Power Supply Module (3.3V & 5.0V)
Tax excluded
Shipped within 1 week
The features of iCM27 are listed as followings:
User friendly module, direct interfacing to breadboard or iCP12 usbStick
Wide input voltage range, VS1: 15Vmax
NCP1117 Regulator to provide +5V or +3.3V output voltage (selectable)
Output Current up to 1.0A
Current limit, safe operating and thermal shutdown protection
On/Off button - power on off switch
Green LED - power on indicator
Red LED - 3.3V mode
DC Jack (5.5x2.1mm) - for power supply adapter
Screw Terminal - for battery connection
Pin socket for addon regulator (iCM22 Step Down Converter) to provide different output voltage at VS2 pin.
Layout:

Dimension:
Dimension: 2.3cm x 6.0cm x 1.6cm
Standard 2.54mm 2x6 pins at output port
Remarks:
Overvoltage input may damage the device. Extended exposure to stresses above the Recommended Operating Conditions may affect device reliability.
Photos:
iCM27 with iCM22 Step Down Converter: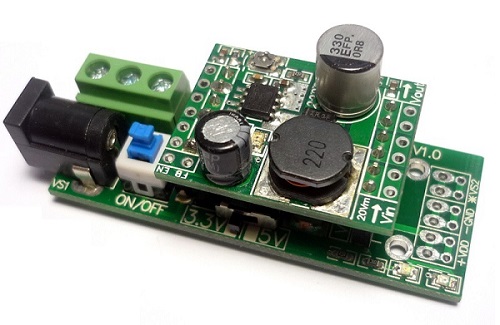 iCM27 with breadboard: